It was way back in 1985 that I first learnt from the musician Billy Joel that you always get a sense of where you stand from the Piano Man. So it was really nice for that to ring true for me. So anyway something far more relevant. Okay so I'm not living in Beverley Hills 90210, that may be obvious to many. BUT I'm really using this "necessity is the mother of invention" hard wiring us humans have evolved over the millenia to to my darnest to ensure I have some harder puzzles coming from the saw cut wooden puzzles. So I have done my first 176 piece wooden A3 size puzzle.
As mentioned these are 176 pieces . . .
It took exactly 92 minutes for what I would call a "darn fine" puzzler, (no folks – not me) to finish. Here are some action shots . . .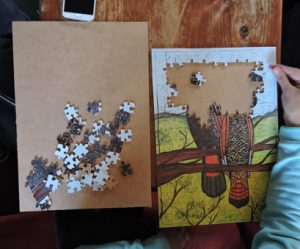 So needless to say, enormous fun was had by all!! The puzzler felt like she was a victim of paparazzi the way I hassled her through-out the challenge. Ahhh good times . . .
(PS – I am such an efficient user of resources, that rather than re write all this for facebook profile – why not just copy and paste). Now that "capacity utilisation". Or is it, "resource efficiencies"?? Nahh, it's "slovenly apathy"!!)
(PPS – No cute little emoticons, stars or symbols in WordPress. Once you get in the habit of emoticons, its a hard path out of addiction).